Services
File Formats We Edit

We accept all file formats such as WORD, PDF, JPEG, LaTeX, etc.

(An additional 15% is charged for PDF and LaTeX editing.)
We guarantee that the quality of English in all manuscripts edited and translated by Wolters Kluwer Author Services will be free of language issues.
Plagiarism Check
One of the most common reasons for rejection is plagiarism – often journal editors find that manuscripts contain sections that appear to have been plagiarized. Lack of time or difficulty with the English language could result in manuscripts that have unintended instances of plagiarism. Such instances could not only lead to rejection by journals but could also damage your reputation and credibility as a researcher.
Our Plagiarism Check service helps you ensure that your manuscript contains no instances of unintentional plagiarism. Under the service, we thoroughly check your manuscript for accidental plagiarism and provide you with a report that contains specific recommendations to address any potential ethical problems.

How it works
STEP 1: You send us your manuscript
STEP 2: We scan it for plagiarism, using iThenticate
We use plagiarism detection software (iThenticate) to compare the contents of your manuscript with over 38 million scholarly articles, books, and conference proceedings.*
View a sample Plagiarism Check Report below.
STEP 3: You receive a report with recommendations for revision
After the scan is complete, our publication experts provide you with a report that recommends the relevant corrective action, depending on the seriousness of the issue.
*Wolters Kluwer does not guarantee the detection of instances in addition to those highlighted by iThenticate.
Price and delivery speed for Plagiarism Check
Sample Plagiarism Check report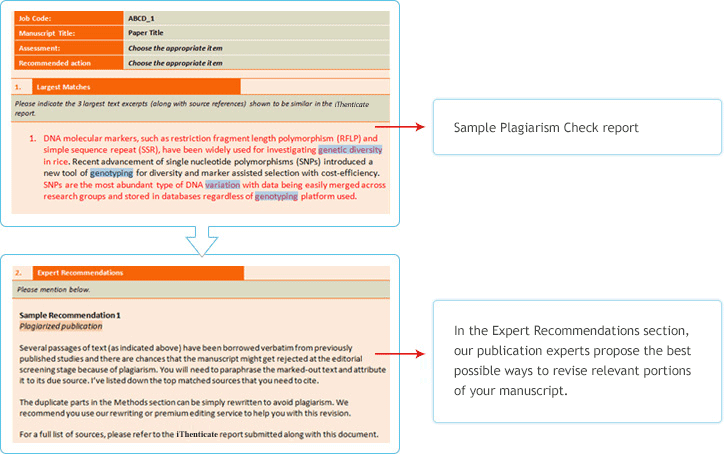 Order Plagiarism Check now